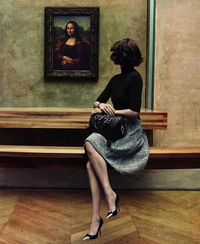 ボストンテリアのoliveと素敵なlifestyle見つけちゃおう attention ~ please♪ *フォトをクリックしてください *dogs for peace    &dog lover ism
by threebbbs
S
M
T
W
T
F
S
1
2
3
4
5
6
7
8
9
10
11
12
13
14
15
16
17
18
19
20
21
22
23
24
25
26
27
28
カテゴリ
以前の記事
"おしらせ"
検索
その他のジャンル
最新の記事
画像一覧
2013年 01月 23日
| | |
| --- | --- |
| runway : dior couture s/s 2013 by mr. simons | |
on the runway: mr. simons plants his garden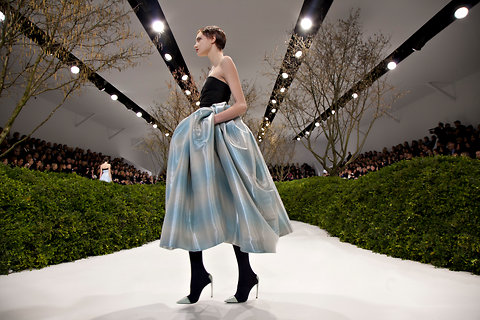 Valerio Mezzanotti for The New York Times

A gathered skirt in striped silk with a bustier at Christian Dior couture spring/summer 2013 in Paris.

Six months ago, Raf Simons presented his first haute couture collection for Dior; he then followed with a hit ready-to-wear show that instantly restored prestige to the house's tailoring. If people didn't believe that Mr. Simons, a maverick in men's wear and a relative newcomer in women's, could take control of Dior, they certainly were convinced after those shows.

COUTURE FASHION
Cathy Horyn's reports from the haute couture shows in Paris.

On Monday, in a recreated garden in the Tuileries, Mr. Simons surprised them yet again.

It was an astonishing show

, full of lightness, hidden layers of embroidery and dazzling color combinations. Beforehand, he admitted that some of the spring-hued colors — grass green, poppy, lilac, periwinkle — were new to him as well.

At the start of the show, the models emerged from a dressing room underneath the white set and began walking along paths arranged with dense boxwood mounded around skeletal trees. The Belgian gardening firm Jacques Wirtz supplied the plants and design. The opening looks recalled Mr. Simons's earlier collections: the airy full skirts, now in a fuzzy pale-blue silk stripe with a strapless black bustier. He wanted to evoke not just the complete experience of a garden (blue sky, black branches) but also the sense of things emerging from the earth and eventually blossoming.

This organic approach meant deceptively simple shapes at the beginning of the show. Among these were gorgeously plain dresses in, say, dark green silk or pale pink with a swag at one side. Sometimes there was an abstract splash of embroidery at the midriff or a glaze of beadwork along the edge of a bustier or dress. One coat had flowers embroidered on the inside.

Everywhere you looked there was something for the eye.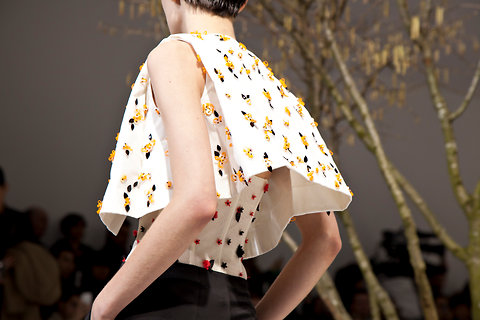 Valerio Mezzanotti for The New York Times
A beaded detail of a bolero over a bustier.

Mr. Simons has made the tuxedo a fixture at Dior, but this time the slim trousers had delicate folds pressed flat near the hips. The plainest navy silk gown went past; in the back, the draping left a sensual peak of bare skin. Another dress, made from several layers of pale pink organza — almost a cosmetic pink — was embroidered with a swirl of wide black satin ribbons.

Layering was almost a story in itself — and done with a lightness and a precision available only in a couture atelier.

A number of dresses were composed of two or three layers of gazar or tulle, with embroidery designed to create a three-dimensional effect. Some embroideries were delicate stems scattered across a vividly colored ground, while a few came in a mid-summer riot of poppy, green, orange, and gold.

Mr. Simons moved confidently away from the codes of Dior, not abandoning them, but feeling free enough to interpret designs like the Bar jacket in more abstract and, ultimately, inventive ways. The Bar jacket, with its crisp peplum, served as the basis for bustiers with trousers, and for his key new addition at Dior: a daytime suit in three pieces.

He called it a "totem pole," in part because the pieces appear in a stack of colors and minimalist shapes. For one look, a sleeveless jacket in pale blue double gazar appeared over a stiffened black silk top with a peplum. The neckline of the jacket was cut open and the garment actually had an under layer that was embroidered at the shoulders in tiny yellow flowers — they're barely visible in photos. The slim skirt was grass-green moiré silk with a black silk underskirt showing at the hem.

It's a completely different way of doing a suit — a simple design with a big impact.

Mr. Simons closed the Dior show with five wedding dresses, in white or very pale shades of pink. One came with a white silk jacket tossed over the shoulders of the model.

"Unbelievable," Bernard Arnault, the chairman of LVMH and Mr. Simons's boss, said backstage. "He's so gifted."

In the audience were Charlene of Monaco, the actresses Rosamund Pike and Marisa Berenson, the designer Azzedine Alaïa, and Pierre Bergé, the partner of Yves Saint Laurent. Mr. Simons Plants His Garden By CATHY HORYN
images
:
source
nytimes